Laptop DC Jack Repair Surrey
We Provide complete DC Jack repair for all Laptops. if You are looking for DC Jack repair in surrey. Please give us call 604-760-1662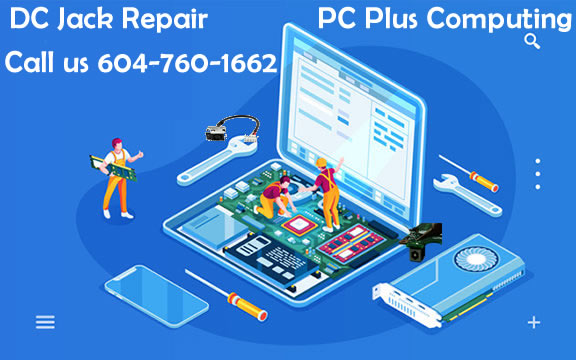 What does a laptop DC Power Jack do?
The DC power jack is a important part of your laptop, allowing you to charge your battery and provide a steady power supply.if DC Jack is faulty Laptop will not get Power
Common causes of power jack damage
Crack Casing
Loosening of parts over time
When the charger pin is pushed in
Power jack was not soldered well
Wrong Charger used
Types of power jack damage
Internal pins of power jack are damaged
Entire jack is damaged
DC-in jack generates sparks or gets hot
DC jack came out of the laptop
Loose pins on charger
Connection between jack and circuit is burnt
Signs of laptop power jack is bad?
Since there are many types of power jack damage you can find on your laptop, so there are different signs.
Laptop does not power on
Power flickers on and off
Switching between battery power and adapter
Need to wiggle or support the charging cable in the socket
DC power jack only works at a certain angle
Battery won't charge
Unable to run the laptop on AC power
Produce sparks after inserting the adapter into the power jack
Laptop shuts down suddenly
You must solve these problems immediately. Call DC Jack Repair near
Call us now 604-760-1662